Nace un sueño
Llega desde España a El Salvador un joven soñador, Ángel Casaús.
Nace la idea de crear una Empresa que beneficie a nuestro país, a falta de selvas y bosques para la fabricación de postes de madera, bajo la necesidad de la expansión Eléctrica se piensa en la creación de Postes de Concreto y productos derivados del cemento.
Productos Atlas
El sueño se vuelve realidad e inicia operaciones Productos Atlas.
Coronel José María Lemus, Presidente de la República de El Salvador asiste a la inauguración de la Planta.
Creciendo en El Salvador
Se ilumina el Boulevard del Ejercito Nacional con Postes Atlas.
Hay una explosión demográfica en el país, asegurando el crecimiento del mercado gracias a nuevas generadoras de energía, utilizando Postes Atlas para crear nuevas líneas de distribución eléctrica, telegráficas y telefónicas.
Postes Seccionados
Atlas implementa tecnología europea para el sistema de pretensado en la fabricación de Postes permitiendo la fabricación de Postes seccionados de mayor resistencia.
Primer despacho de Postes hacia Guatemala encabezado por Don Ángel Casaús.
A Paso Gigante
Se inauguran nuevas instalaciones administrativas.
Aperturan funcionamiento de la Central Hidroeléctrica 15 de Septiembre y Central de Turbina de Gas en San Miguel.
Implementando Tecnologías
-Se adquiere Centrifuga para la producción innovadora de Postes Seccionados de 21 a 39 metros.
ISO 9001
En Julio de 2004 se certifica la Empresa con la ISO 9001:2000.
Cambio de logo que incluye la Certificación ISO 9001:2000.
Century Era Quality Award
Diego Casaús recibe el Century Era Quality Award en Ginebra, Suiza.
Productos Atlas compra Fábrica de Postes en Nicaragua y cubre el mercado potencialmente.
GRUPO ATLAS
Gracias a la expansión en la región y la representación en cada país, Productos Atlas hace su transición a Grupo Atlas, renovando completamente su imagen basado en su Logo actual y abriendo camino hacia nuevos mercados al Norte y Sur.
Expansión
Grupo Atlas sigue cumpliendo su misión de ser socio estratégico entre los líderes del desarrollo eléctrico en América Latina y el Caribe, por medio de la fabricación de Postes de Concreto pretensados, centrifugados y postensados, del suministro de accesorios y del apoyo técnico adecuado para la optimización de proyectos, basándonos en innovación y calidad. Grupo Atlas has been manufacturing poles for over 50 years, for their use in power lines, distribution lines, telecommunication lines, lighting, cellular communications, billboards, ecological monopoles, and foundations for footbridges. This is why the quality of our poles has made a mark with the passing of time.

Our modern system of Pre-stressing, Spinning-Casting, and Post-stressing places us as leaders in Central America. High quality products, years of experience, innovative ideas, and technical support for our clients, have strengthened our presence in the Latin American and Caribbean regions.
Grupo Atlas' employees are highly qualified in all areas: Technical, Financial, Administrative, and Operational.

Our system of quality management, certified by American Trust Register, S.C ATR0564 based on the ISO 90001:2008 Norm, allows for a wide range of design processes, development, manufacturing, sales, services, and distribution of poles and concrete products for the electrical and telecommunications industry. Grupo Atlas is not only the story of a successful company whose development is associated with the progress in El Salvador and the Central American region.

---
50s Assembled Spun Poles
In the beginning, the plant was a small scale industry with a staff of 18 and a single centrifuge, which turned out approximately 11 poles per day. Productos Atlas' concrete poles came to replace wooden poles that were imported from other Central American countries and that had a very short lifespan. To the contrary, concrete pole represented triple the durability, a lifetime that exceeds 50 years, and did not require maintenance expenses.
In the early 1960s, El Salvador was considered one of the most advanced countries in Latin America. However, the collapse of coffee and cotton prices caused a crisis that was overcome by Central America's economic integration that had begun the 1950s. When Productos Atlas perceived the need to build poles with greater capacity, increased technology, and competitive prices, it gave a technological leap of large proportions by introducing European technology in the manufacturing of pre-stressed concrete poles. This technology allowed Productos Atlas to produce poles reaching 18 meters in length, with a 2000-pound resistance at the tip. With these and other technological innovations, Productos Atlas introduced a variety of longer and more resistant poles, capable of supporting high- and medium-voltage power lines that would come to replace expensive steel-tower structures, traditionally used in electrical projects.
60s/70s Centrifugal prestressed poles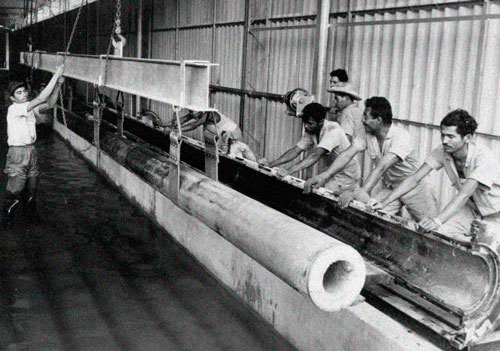 80s/90s Sectioned and post-tensioned poles.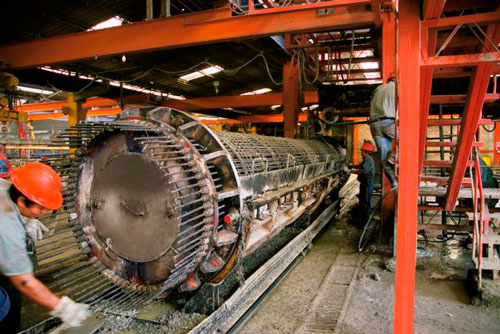 In the 1990s, Productos Atlas incorporated state-of-the-art European technologies applied to the sector, investing significant sums of its invoicing volume in new developments and improvements. This policy allowed for the design, develop and marketing of other types of poles. Poles were being built in different sizes and levels of resistance, using the sectioning technique, thus producing a pole in three or four parts in order to obtain up to 48 meters in length, thus complying with international standards, in accordance to the voltage and power to be transmitted. This innovative method was also applied in the production of Ecological Monopoles, Monopoles for Cellular Communications, billboards, and structural supports for footbridges. Further technological innovation came in the development of a fully computerized program with regard to quality control and plant production, thus automating many of the production processes.
Grupo Atlas has spearheaded development and modernization in the Latin American and Caribbean regions for many years, by participating in important projects regarding electrification, telecommunications, industrialization, and urban growth. In recent years, and driven by the expansion of the electrification system in Latin America and the Caribbean and by the boom experienced in the power sector as of the participation of private investment resulting from the capitalization of power companies; Grupo Atlas expands its plant and the number of its employees by incorporating a group of top professionals and technicians to its work team, thus increasing overall annual production of poles and applying international norms in all the production processes. This growth in demand for production drove Grupo Atlas to open a new production plant in Nicaragua in May 2006. It is currently producing vibrated poles, and will soon be introduced to the technology of spun poles. This advanced plant has an installed capacity to produce poles on a 24-hour basis with its four centrifuges, and is self-sufficient as its steel molds and metal coupling flanges are produced in situ.
In many ways and for over 50 years, Grupo Atlas has contributed to the transformation of social life in Latin America and the Caribbean through its participation in the development of complex electric and telecommunications systems, and will continue to do so for many years to come, with one idea in mind, which is to simply continue to do things right. We are committed to finding and developing new and creative solutions regarding infrastructure and technology in the power industry, with efficiency, competitiveness and sustainable development as our guidelines.
2000 – Grupo Atlas Today